Danish Radio Jazz Orchestra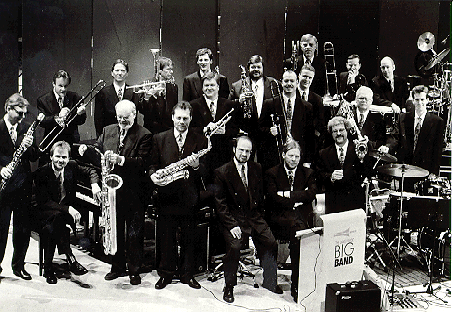 The Danish Radio Jazz Orchestra is Denmark's national jazz band. The orchestra was founded in 1964 and has established itself as an ensemble in the international jazz elite with bandleaders like Ib Glindeman, Ray Pitts, Palle Mikkelborg, Thad Jones, Ole Kock Hansen, and Bob Brookmeyer (since January 1996).
The orchestra gives concerts both in Denmark and abroad, and has through the years been the host of hundres of guests -- soloists, bandleaders, and arrangers -- e.g. Miles Davis, David Sanborn, Stan Kenton, Stan Getz, Dizzy Gillespie, George Russell, Manhattan Transfer, John Scofield, Toots Thielemans, McCoy Tyner, Maria Schneider, Oliver Nelson, Martial Solal, Tom Harrell, and Van Morrison.
Among its 20 members DRJO traditionally harbours some of Denmark's finest jazz musicians, previously e.g. Niels-Henning Ørsted Pedersen, Jesper Thilo, Allan Botschinsky, and Bent Jædig. And today Uffe Markussen, Nikolaj Bentzon, and Henrik Bolberg as well as the Swedes Tomas Franck, Jan Kohlin, and Anders "Chico" Lindvall, who can all be heard on the DR broadcast of the most recent concert with Van, from the Toll Chamber in Elsinore, August 5th 1995.
Copenhagen is "Cultural Capital of Europe 1996" and the DRJO introduces several major initiatives. Among them 2 European tours, one with the American tenorsaxofone player Joe Henderson and another with new music by Brookmeyer. The orchestra also appears in a new grand dance performance "Dex" based on the life of Dexter Gordon, with the Nyt Dansk Danseteater (opened at the Cirkusbygningen February 23rd), and concert dates have been set with Eliane Elias, Art Farmer, Django Bates, and Jim McNeely.
Editor: Peter H. Larsen